The Original
Sheriff's Ghost Walk Tours
St. Augustine, Florida


Sheriffs Ghost Walk Tours rated "excellent" by 363 travelers.
Over 600 5-star reviews! This is the 2nd time…
A Ghostly Adventure you will never forget
A 90 Minute Walk Along The Dark Streets And Cemeteries Of Old St. Augustine.
One Tour Nightly 8:00 PM
For reservation please call 904-540-0031

"Sheriff moved to a new location
32 St. George Street , across from Colonial Quarter"
US City Traveler.com has award the Sheriff Ghost Walk #6 out of 13 ,Best Bone Chilling tours in the United States.
We post photos of Various spooky stuff captured on our tours by folks from our tours. if you have taken a picture, send it to us and it we'll post it.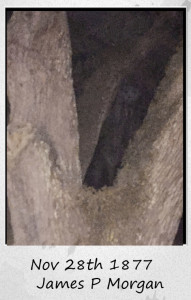 DON'T FORGET TO BRING YOUR CAMERAS, as ghost orbs, mists, & even fully formed figures frequently appear in photos at some sites we will be visiting. You can see examples of ghost pictures our guests have taken on our tour by clicking "HERE"
The pics on this page are taken & owned by a 12 year old girl at the Tolomato cememtary !! On Nov 28th 1877 a little 5 year boy named James P Morgan was climbing the big oak tree by the gates to the cemetary when he fell an broke his neck . His mom had him buried where he died , next to the tree, look in the crouch of the tree.
You Will Hear Bone Chilling Tales
That Have Lived For More Than 400 Years!
The Sheriffs Ghost Walk Tours is a unique experience. The Sheriff and all of his dead deputies are experienced guides. You will hear stories of Haunted Houses, Bed & Breakfasts and The Old Cemeteries! You will walk the dark streets of the nations oldest city of Saint Augustine, Florida. All stories told are so rich in detail they will tingle your spine!
All our tours are researched for historical facts. Come see why Sheriff's Ghost Walk Tours are the most original and historically correct GHOST tours in Saint Augustine, FL.
We tend to experience MANY supernatural encounters on our tours. Take a look at our photos of ghosts caught on our tours! Click Here
Beware…Not For The Weak At Heart,
JOIN US IF YOU DARE!